The chapter begins in the military encampment north of Talmberg. Since the night raid has failed, the only option left to consider is a siege of the castle. Speak with Sir Robard for further instruction.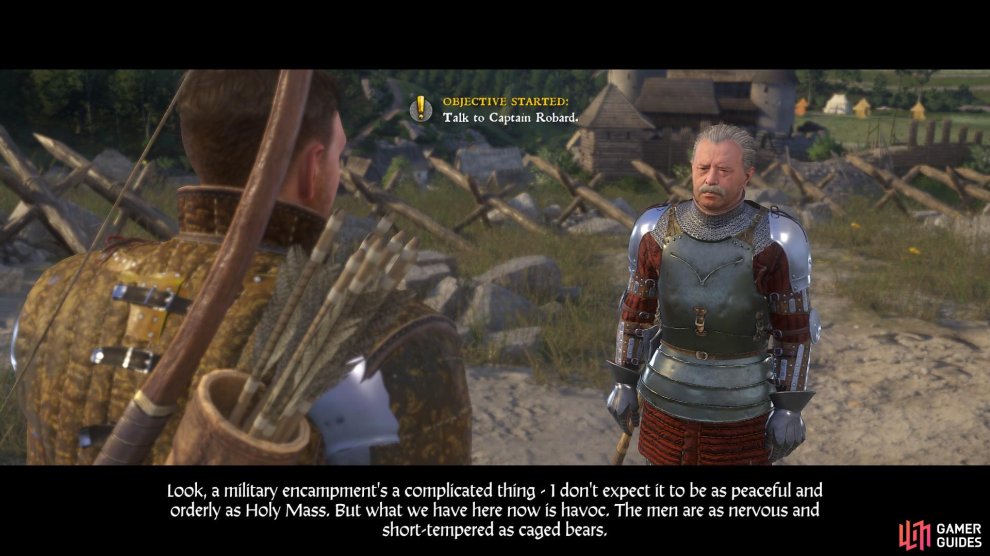 After speaking with Sir Robard, you will have the option of completing relatively simple side objectives by speaking with Sir Divish, the quartermaster and Captain Bernard. You can leave those for now and come back to them later. For now, the only person that you need to speak with is Master Feyfar.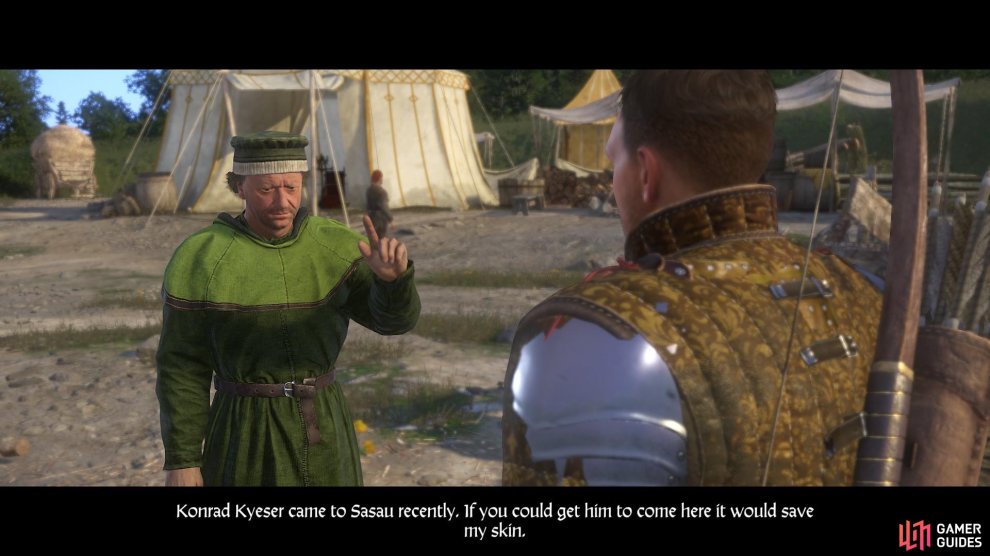 The only person in the region who could possibly help with constructing a trebuchet is the peculiar Konrad Kyeser. Go to the Sasau monastery to enlist his help.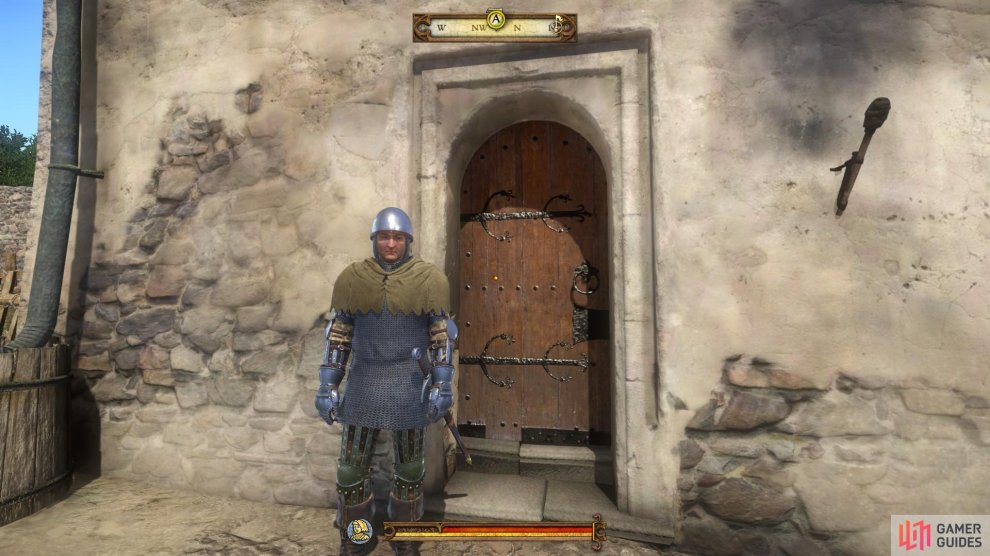 When you speak with Konrad Kyeser he will tell you that he cannot leave until you have obtained the commission from Master Builder Karel and ensured that he is short of money. There is no need to bother speaking with Master Karel at this point; nothing that you say will persuade him to allow Konrad Kyeser to leave. Instead, you should focus on stealing the commission.
Note: There are a number of ways in which you can deal with the problem of getting Konrad Kyeser out of Sasau. The following will detail the method which causes the least amount of harm to him while still getting him out relatively quickly. If you prefer a more direct approach, you can wait until night falls to knock Konrad out and carry him out of Sasau. You will have to ensure that the guards nearby are dealt with first; either by knocking them out or killing them. As an optional objective you can ensure that Master Karel is low on coin by beating him at a game of dice. This requires that you visit him during the evening when he is sat outside the inn.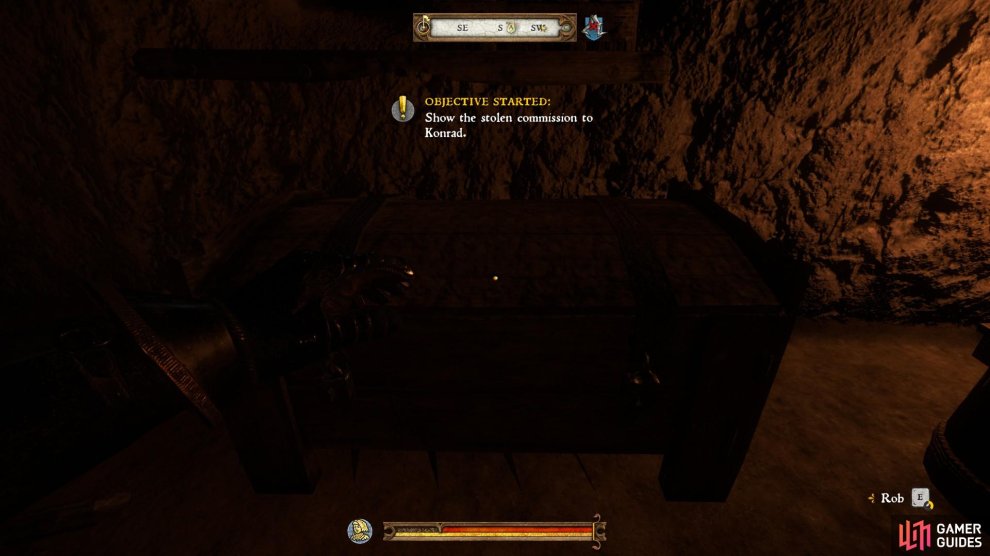 Having obtained the commission, wait until morning to inform Konrad Kyeser. Show the commission to Konrad and he will instruct you to take it to the scribe.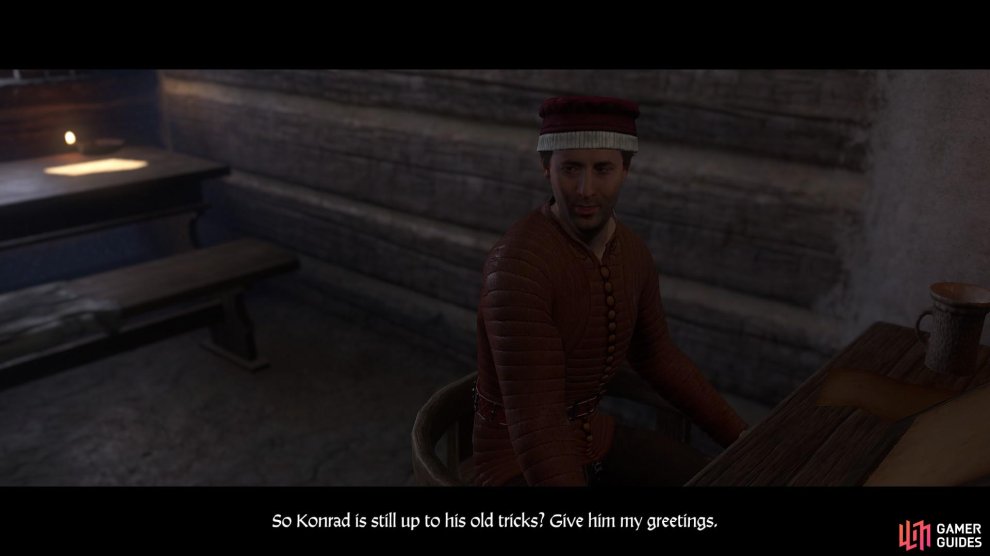 Wait two hours for the scribe to finish the forging of the documents. After speaking with him, take the original documents back to his house and put them in the chest. With that done you can speak to Master Karel to show him the forged documents.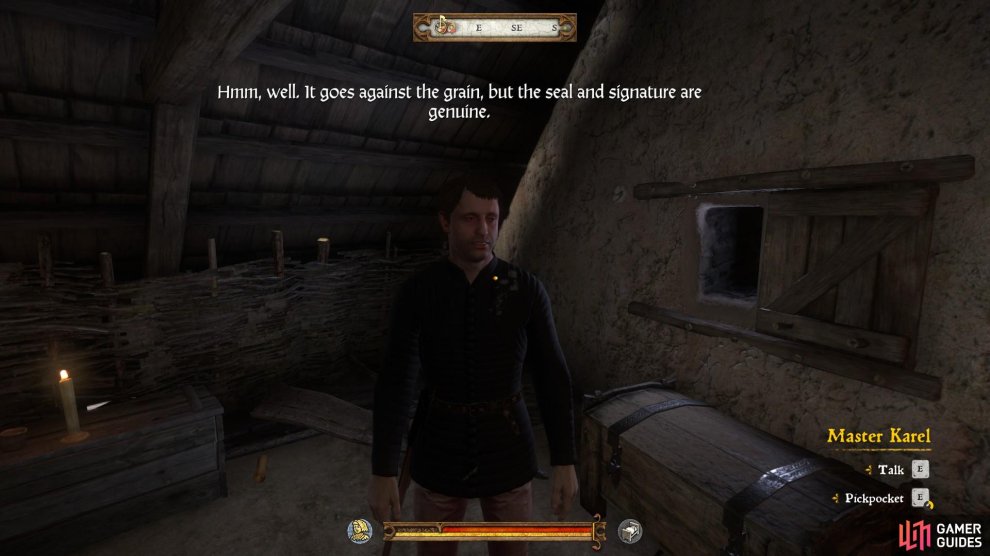 Now that Konrad Kyeser has permission to leave, go back to where he is staying and let him know.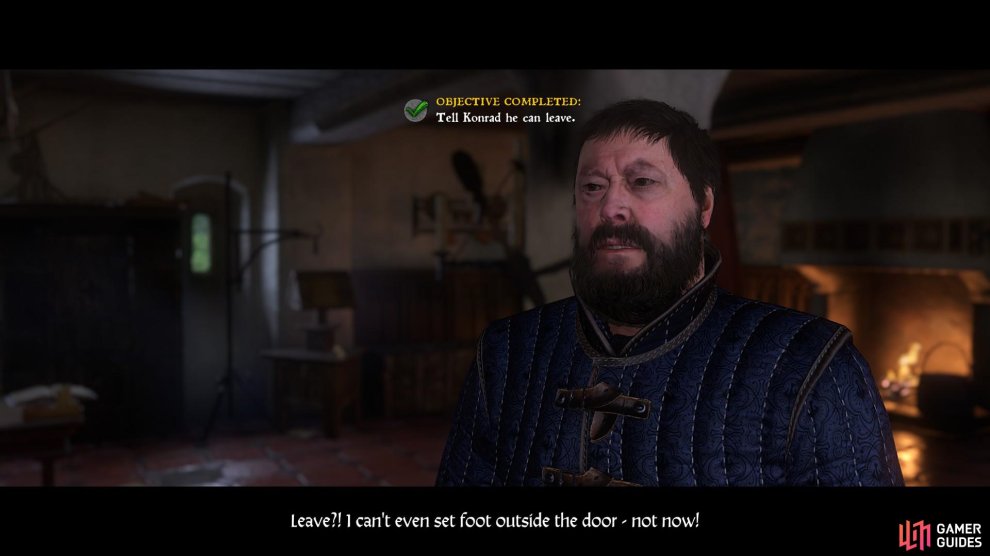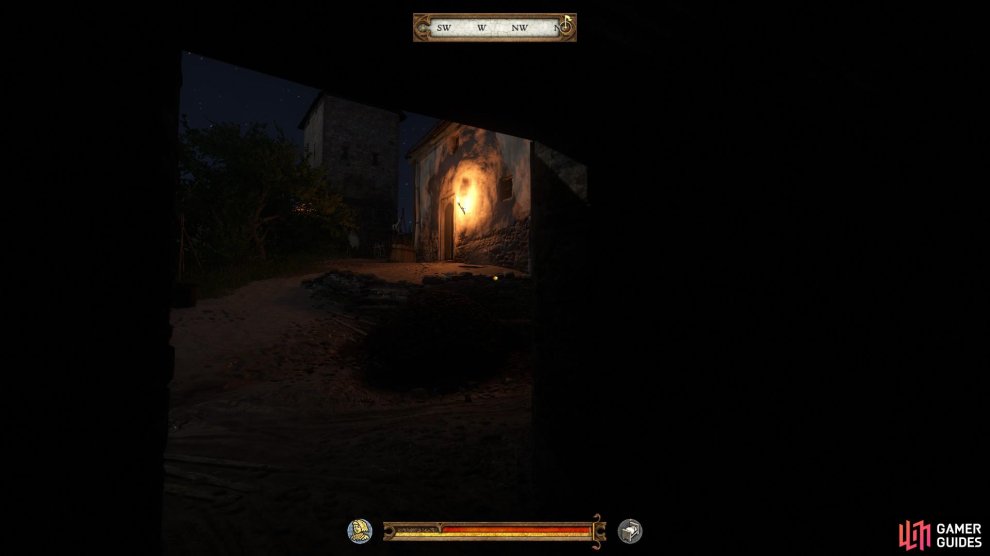 Note: If you sneak up on Peychar he will claim not to know that Konrad Kyeser was staying in Sasau. Whether you choose to believe him or not, it will not matter to the outcome. However (Spoiler!) if you let him live he will attempt to assassinate Konrad at the military encampment north of Talmberg. Although Peychar will be dealt with by the guards, Konrad will not be happy with you. It is therefore best to kill Peychar in Sasau.
With Peychar dealt with, you can now speak to Konrad Kyeser about leaving for Talmberg. Go back to Master Feyfar and inform him that you have secured Konrad's help. When you arrive at the camp you will be left with the optional objectives, which in this case must be completed before you can continue with the story. You can begin by collecting the pitch from the local charcoal-burners.
With the pitch delivered, speak to the quartermaster to see what else he needs help with.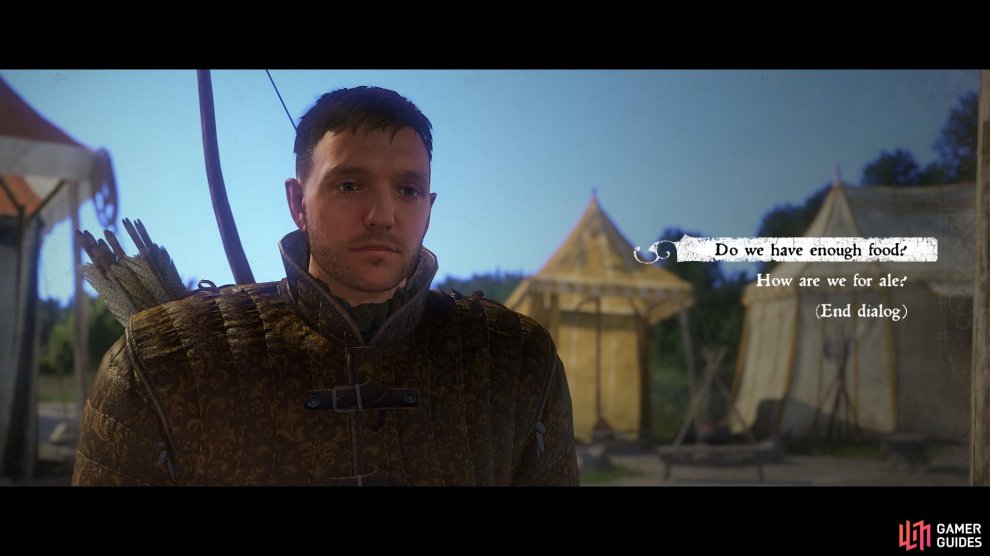 To get the ale, you will need to ask around the local taverns to see if any of them can spare enough for the troops. Before you go riding off to each and every tavern, go to Andrew at the Inn in the Glade. He is the only innkeeper who will be able to provide the ale.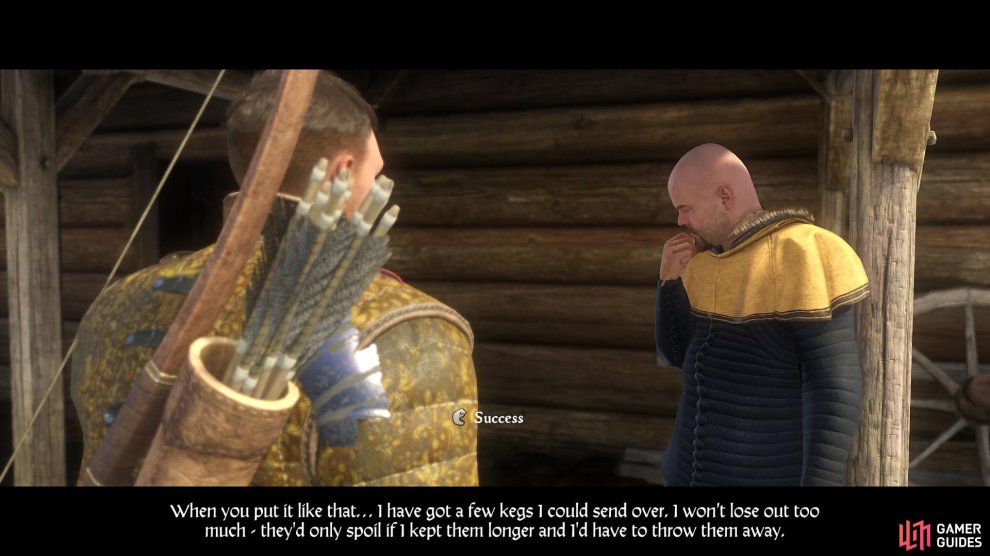 With the ale secured, you can now go hunting in the woods to provide enough meat for all of the troops. It does not matter what kind of animal you hunt; any meat will count toward the amount that you need. In most cases just one deer will provide enough, but you may need to hunt a couple of hares alongside it.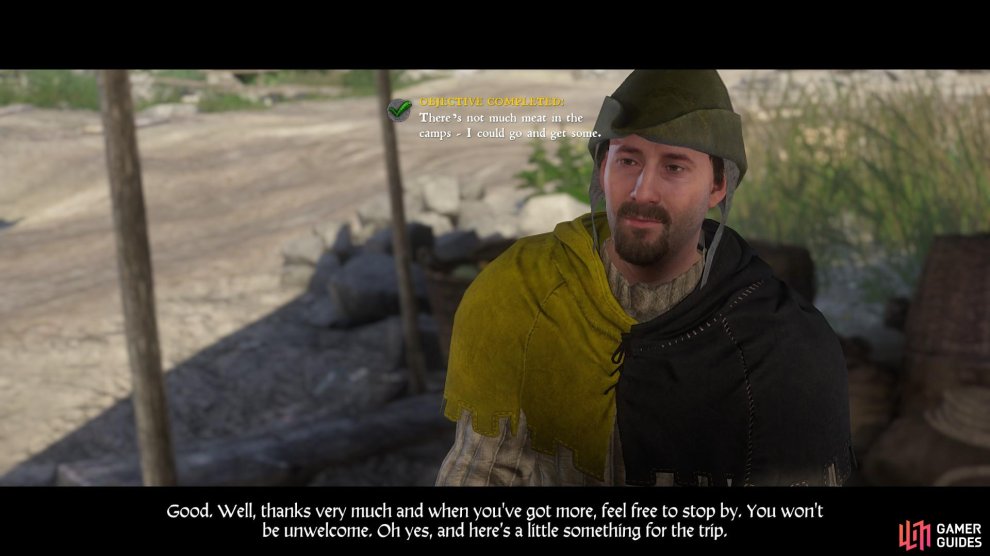 The next person to speak to would be Captain Bernard. He has been having some trouble with the troops; they are sleeping while on duty too often. You can help by speaking to a Herbalist to see if they can recommend a remedy for tiredness.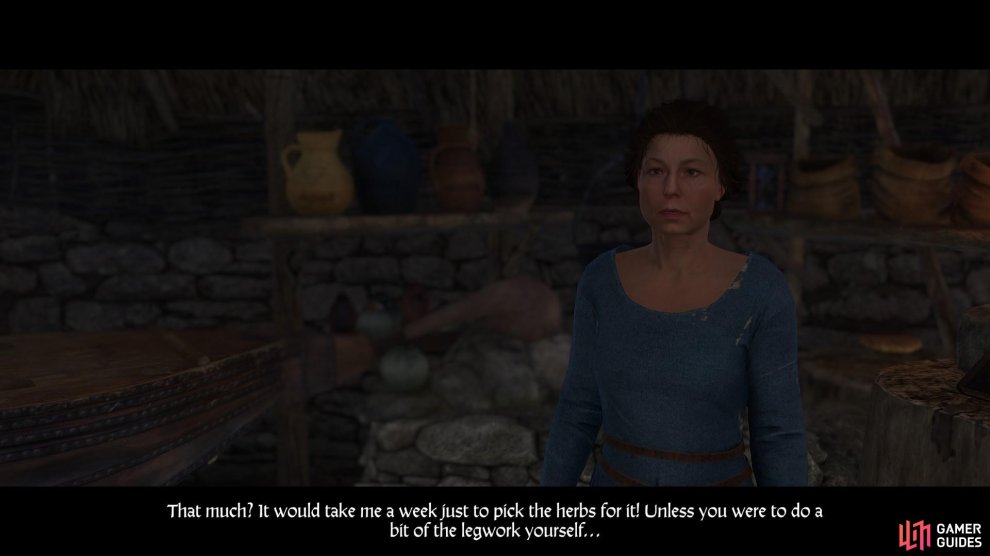 To find the ingredients you will have to speak with other Herbalists in the region, visit the Apothecary in Rattay and pick any others that you might be missing from the wilds. Most Herbalists will be located in woods that are rich in herbs, so you can focus your search there. In addition, most Traders will have a healthy supply of herbs.
Once the potion is brewed, bring it to Captain Bernard so that it can be distributed among the troops. You can now go to speak with Sir Divish to see if he needs any help.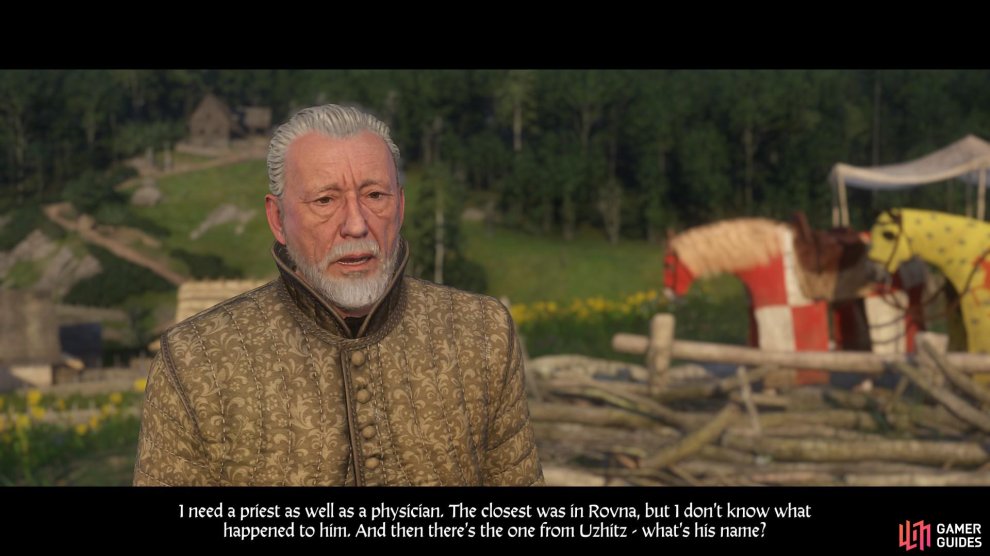 The priest that you should ask to help Sir Divish is Father Godwin, who can be found in Uzhitz.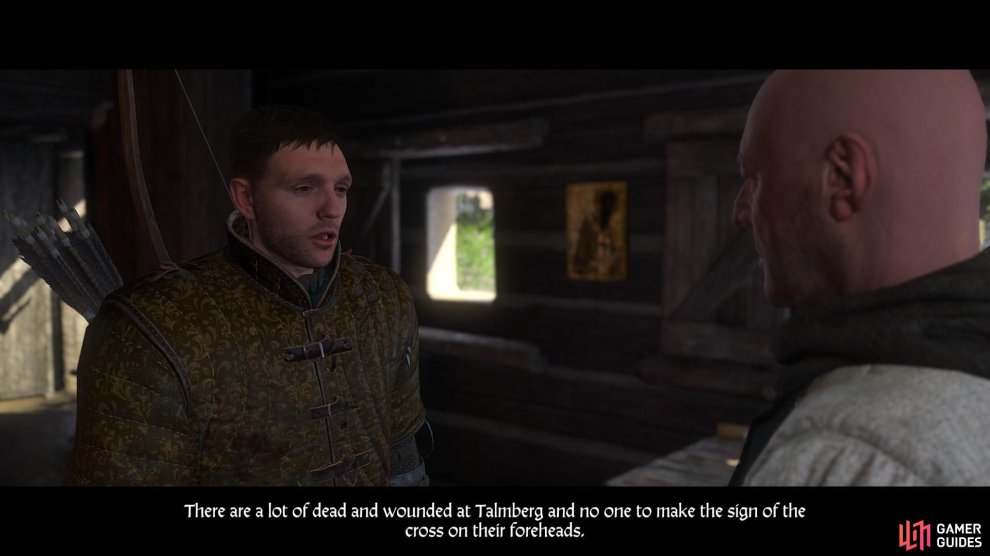 The physician that you seek is Brother Nicodemus. You can find him in his work space beside the Monastery.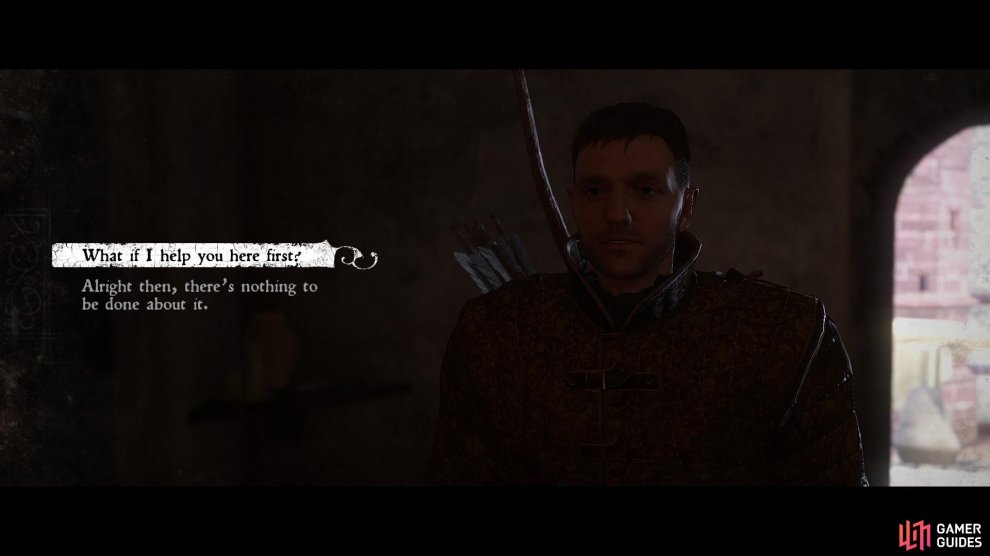 Finally, speak to Master Feyfar about Konrad Kyesar.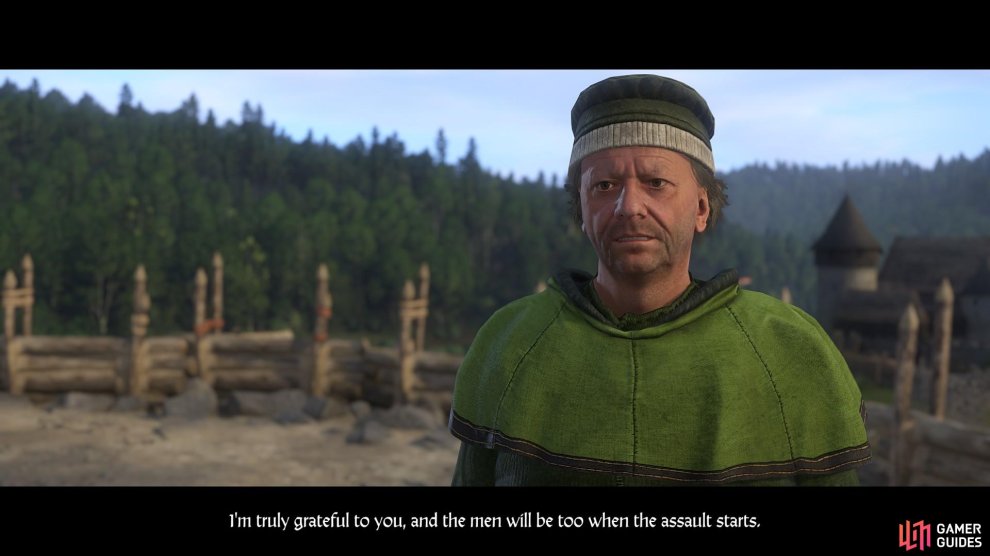 Use the time dial to wait until the trebuchet is fully built. It should take no longer than two days. When it is ready, speak with Master Feyfar.