Alan Wake II Review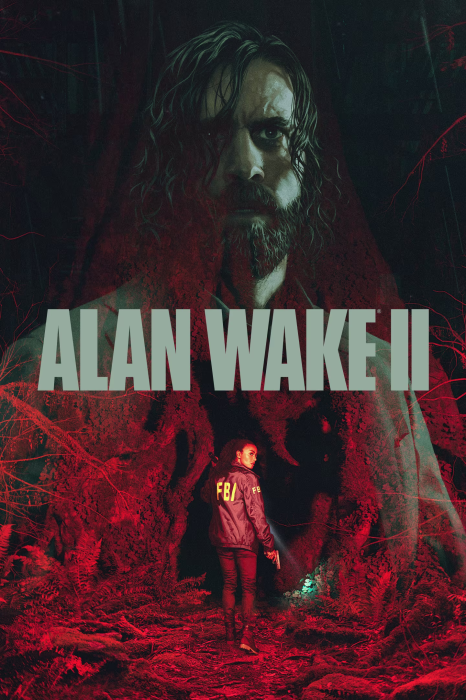 Pros
Tense, nightmarish atmosphere

Creative storytelling mechanics

Excellent sound and visual design

Ambition in abundance

Cheaper than standard AAA release
Cons
Clunky tropes collide with cutting-edge ideas

Obnoxious jumpscares cheapen ambience

Overindulgence affects pace and narrative
13 years ago, Alan Wake disappeared.
The critically acclaimed pulp fiction writer had been visiting the quaint woodland community of Bright Falls, Washington, accompanied by his wife and celebrated photographer, Alice. Alan had been suffering from an extended period of writer's block, and the couple had hoped that the quiet vacation might reignite the author's creative fire.
Instead, they found themselves plunged into an unimaginable living nightmare.
Beneath Cauldron Lake - a dark body of water that surrounds the dense forest in a dormant volcano - a terrible creature stirred. The Dark Presence. This horrifying, otherworldy anomaly pulled Alice into its depths, leaving Alan with the unfathomable task of breaking, and then re-writing reality in order to save his wife from a frightening, physics-defying realm where only a combination of creativity and light offers defense against the hostile shadows within, known as "The Taken".
While Wake would succeed in saving Alice from a fate perhaps worse than death, the author was forced to remain within this alternate reality, The Dark Presence, himself. Endlessly writing, editing, and rewriting his very environment in a desperate attempt to escape back to reality. All to no avail.
But recently, a series of grisly murders in the vicinity of Cauldron Lake has brought this cold case to the forefront, with FBI agents Saga Anderson and Alex Casey tasked with investigating these horrific, ritualistic killings. But, even with a wealth of experience under their belts, the agents have no idea how their own reality is about to unravel at its very seams.
It's 13 years later. And Alan Wake is coming home.
Having arrived on the scene after an embattled decade of stop-start development, Remedy Entertainment's Alan Wake II finally emerges from the shadows into a very, very different gaming sphere than the one that greeted its predecessor, way back in 2010. Not only has the Finnish studio itself evolved its general design concepts, doggedly exploring the possibilities of modern gaming physics, but there have also been huge advancements (and thus expectations) within the genre of cinematic, third-person adventures. Since Alan Wake's release, titles such as Naughty Dog's The Last of Us, Capcom's Resident Evil remakes, and Rocksteady's Batman: Arkham series have fully redefined both action gameplay and in-universe storytelling, both from a technical and narrative standpoint. But, while Alan Wake II debuts in a very different market to that of its predecessor, the evolution of both gaming technology and the genre itself over the past decade allows for the realization of ideas and concepts that were unheard of back in 2010.
Alan Wake II is a clear summation of everything that Remedy Entertainment has learned over the preceding decade, marrying the dramatic, shifting narratives of titles such as Max Payne 3, with the reality-breaking physics of releases such as Quantum Break and, more pointedly, Control. This general approach to delivering character-driven drama against unpredictable environments has become Remedy's forte, and Alan Wake II feels like a conclusion to the studio's work, while simultaneously stamping Remedy's mark on its modus operandi for its future releases.
Alan Wake II follows the dual-universe story of two protagonists: the ambitious FBI agent Saga Anderson, whose investigations take place in our reality, and Wake's own journey through the shadowy realm known as "The Dark Place". With events in the real world triggered and motivated by events with The Dark Place, the two characters' plotlines run simultaneously, with the player able to approach their respective chapters in any order they see fit. Ultimately, however, both protagonists must reach their own conclusions before the two worlds can collide in cataclysm.
Prioritizing its narrative and character-driven elements, the sequel's deeply layered story follows Saga and Alan as they creep ever closer to an inevitable confrontation - one that will ultimately put their lives, Bright Falls, and the very stability of reality at risk. Remedy has weaved this sense of impending dread throughout the fabric of the entire game, utilizing in-world machinima, the written texts of Alan himself, and numerous live-action cinematics to present an ambitious tale of psychological horror and dizzying mystery.
The narrative pays service to the original Alan Wake in many ways, expanding the fathomic lore established 13 years ago and revisiting themes, locations, and characters from the preceding release. As a sequel, Alan Wake II succeeds, maintaining the rule-and-brain-breaking terror of its predecessor, while introducing exciting new elements and evolving the encompassing themes of creativity, loss, sacrifice, and self-destruction. Flawed characters with blinkered ideals, the struggles of the creative mindset, work-versus-life, militant fan communities, and the separation of art and artist - all metamorphosed as ethereal horror and pervasive dread.
Of course, this doesn't mean that the tale is not without its flaws. The fromage-fragranced writing of series creator Sam Lake is in full flow, and while this paperback tone absolutely works in favor of Alan Wake's pulpy atmosphere, it does occasionally result in some frankly bewildering dialogue, as well as some jarring moments of convenience.
Flawed characters with blinkered ideals, the struggles of the creative mindset, work-versus-life, militant fan communities, and the separation of art and artists - metamorphosed as ethereal horror and pervasive dread.
There is also an overindulgence issue, which is apparent in numerous sequences. These include backtrack-driven jaunts through multiple scenes, a climatic sequence drowning in exposition, and even the most memetic moment of the entire game which, while undoubtedly a lot of fun, still outstays its welcome. Additionally, while we all love Lake, it has to be said that his handsome visage being plastered on posters throughout The Dark Place, as well as his visual representation as no less than three characters, (one being "himself"), does push beyond the story's meta-textual theme and into immersion-breaking overkill.
Ultimately, however, Alan Wake II's story delivers, utilizing dramatic, character-based storyline - alongside slick commentary on the art of art itself - to provide a beating heart for the entire experience. It is clearly a text written for a modern audience - brought up on a diet of thrilling "Golden Era" TV shows and True Crime podcasts. Synergizing the franchise lore with these popular multimedia influences results in a compelling tale as dark, deep, and disturbingly inviting as Cauldron Lake itself.
To dwell on the minutiae of gameplay is a little redundant, as Alan Wake II typically follows the standard Explore > Gather > Shoot > Solve formula of so many third-person adventures before it. In fact, it's a little surprising quite how tropey and traditional the core gameplay is, fairly reminiscent of yesteryear's Survival Horror titles. Key focus is directly on progressing the narrative; the player moving the pieces around the board in order to bridge the story beats. This traditional approach to game design is also apparent in the ignoring of mechanics such as Quick Travel, while utilizing slower-paced movement and a frequent need for map checks. Alan Wake II asks the player for their patience, likely in an effort to provide a sustained sensation of threat and terror. It should be rewarded as such, though it will be a divisive stance.
As our protagonists pick their way through the story, they will face numerous enemies. These include crazed cultists, "Taken" humans and, in Alan's case, frightening manifestations that literally loom out from the shadows. Combat in Alan Wake II is inarguably clunky, a hybrid of the earlier Resident Evil release and the (intentionally) clumsy nature of Silent Hill. As with the 2010 release, characters use a combination of blinding light and good, old-fashioned lead to put down their opposition - with headshots not only encouraged, but practically necessary.
The stilted nature of these fights lends to the title's overall vibe of "classic" survival horror. But traditional elements should only really help the player to reminisce, rather than struggle, and combat is one of Alan Wake II's weakest elements. Fortunately, action is sporadic, and outside of several specific instances - including an array of challenging boss battles - far more time is spent exploring the environment, conversing with NPCs, and solving puzzles than is spent tossing flares and filling folk with holes.
Speaking of puzzles, these typically consist of little more than observation-based "The Clues Are In The Room" teasers, the solving of which unlocks doors, safes, stashes, and cabinets. While satisfying, these are essentially all of the puzzles offered in the game world and do develop a sense of repetition. Far more interesting is Alan Wake II's "Mind Place/Writer's Room" mechanics, which see Alan and Saga piece together their respective nightmares within their own heads.
Operating essentially as interactive menus, these internal head-hubs task the player with plotting the characters' next course of action, stepping ever closer to solving the current problem. In Saga's case, this involves piecing together evidence gathered from character testimony, found in the environment, read in Alan's own work, or ascertained through her mysteriously accurate ability to profile those she encounters. Alan, trapped within a universe shifted by his own creativity, must instead construct narratives - built of locations and events - in order to progress through chapters of his own text and thus reach his own Happy Ending.
These Mind Place mechanics are among the most notable elements of the adventure - driving the mystery and bolstering the deductive elements of the story. However, the paper-shuffling "Stop/Start" nature of these sequences does halt momentum, and while some players will be in their element sinking into the "Cold Case" nature of the Mind Place, others may find it tedious.
The Dark Place offers a nightmare circus of visual effects, from the shadow-plagued enemies that wander the streets like lost souls, to disorientating loops that highlight the realm's unpredictable nature.
The most innovative element of the sequel, however, belongs to the use of shifting realities, enabled by a combination of contemporary gaming technology and Remedy's love of reality-bending design. The Dark Place offers a nightmare circus of visual effects, from the shadow-plagued enemies that wander the streets like lost souls, to its disorientating loops that highlight the realm's unpredictable nature. The guiding light for his journey, Wake's "Angel Lamp" allows the author to instantly alter these surroundings, producing new routes and revealing hidden secrets.
Through the combined use of this lamp and his own writing, Wake is able to progress through The Dark Place and thus his own story. A desperate, half-chance effort to bring him a step closer to home and the waiting arms of Alice. The Dark Place is a disturbing locale, and one can easily see it as an evolution of similarly creepy sequences from previous Remedy releases - the overdose scene from Max Payne, or the mazes of Control. The Dark Place is the summation of Wake's own inner turmoil and as such is suitably despairing.
It would also be remiss not to note the equally spectacular sound design. Much like its predecessor, Alan Wake II uses omnidirectional sound to create a perpetual sense of unease. Whispered voices echoing out of the darkness, jarring twig snaps and floorboard creaks. The oppressive quiet occasionally punctuated by the ring of a gunshot or the howl of a wolf. The atmospheric score includes an album's worth of original songs, and anyone who remembers the iconic "concert" battle from the 2010 release will be pleased to hear that this dynamic is not only revisited, but this time turned all the way up to 11.
In an ironic reflection of Alan Wake's battle with his own doppelganger, Alan Wake II is a game frequently battling itself. The fantastic atmosphere, layered storytelling, and hugely ambitious concepts wrestle with the more, let's say, "gamified" nature of its design. Alan Wake II wants to be a TV show, but it also needs to be a game. As such, the two mediums don't always blend as well as they might. One moment you're engaged in an intriguing conversation in an unnervingly empty medical facility, or crafting imaginary passageways through the use of locations and plot beats, and the next you're opening wardrobes to pick up shotgun shells, downing three tubs of painkillers, upgrading your ammo capacity, or backtracking for That Specific Screwdriver to break This Specific Lock.
Elements of complex storytelling, physically shifting environments, and nerve-jangling scares collide with decades-old gaming tropes, presenting a sequel that is both light years ahead and chained to the past. When you produce a title so intensely cinematic, so beholden to its theatrics, so deep in its lore, so proud of its ambition and innovation, then it can be a real shock to the system when your characters need to down tubs of painkillers, upgrade their crossbow, or search for a doorknob to open an office door. Itchy, Tasty.
This clash of styles is not confined to Alan Wake II - as anyone who has sat as Ellie, crafting pipe bombs and stun grenades in the middle of a firefight, can attest - but the dissonance of The Cinematic Narrative vs. The Action Video Game is still a roadblock in the medium. While Alan Wake II goes to admirable efforts to blend this juxtaposition, it isn't wholly successful.
All that said…
It should be made abundantly clear that Remedy's ambition and talent absolutely shines though. While Alan Wake II's moment-to-moment gameplay, stripped down, is extremely familiar, the sequel's atmosphere, audio/visual aesthetic, and shifting physics are fascinating and absorbing. As a Walk-and-Shoot video game,Alan Wake II breaks no mold, but as a complete vessel with which to deliver interactive fiction, it successfully raises the bar with a passionate commitment to experimentation.
Alan Wake II fires a lot of shots, and not all of them hit the target. It's frequently hair-raising and nerve-jangling, but occasionally repetitive and distracting. It conveys an excellent atmosphere of doom and dread but is equally peppered with tacky jumpscares. It has elements of genuinely ground-breaking game design, that are married to dated and clunky action mechanics. It is both humble in its approach and weirdly self-indulgent in execution.
But when any artist sets out to create something different from the norm, it often produces divisive or even imbalanced results.
The key here is intent, and Alan Wake II intends to deliver an unnerving, dramatic, and innovative slice of survival horror, enveloping the protagonists, (and by proxy, the player) in shadows while shepherding them toward hope. In this regard, the sequel succeeds, compensating for its flaws with memorable set pieces, excellent audio/visual design, and provocative storytelling.
Alan Wake II not only offers dedicated fans an exciting, nightmarish expansion of the lore that they have studied for the past decade but also celebrates Remedy Entertainment's evolution as one of the most interesting and exciting studios in modern gaming. Alan Wake II feels like a culmination of Remedy's past successes, while simultaneously laying the groundwork for even more inventive and cutting edge experiences still to come.
With Alan Wake II, Remedy delivers a sequel that often stumbles under the weight of its own ambition, but corrects its missteps with a gloriously gloomy atmosphere, excellent sound and visual design, and engaging methods of cinematic storytelling. A bold experiment in survival horror that provokes just as much as it unsettles, and is not soon to be forgotten.
This review is based on a retail build of the game provided by the publisher.
Final Verdict
Wake in Fright
With Alan Wake II, Remedy delivers a sequel that often stumbles under the weight of its own ambition, but corrects its missteps with a gloriously gloomy atmosphere, excellent sound and visual design, and engaging methods of cinematic storytelling. A bold experiment in survival horror that provokes just as much as it unsettles, and is not soon to be forgotten.
Shop Now